Electric hard seal butterfly valve product description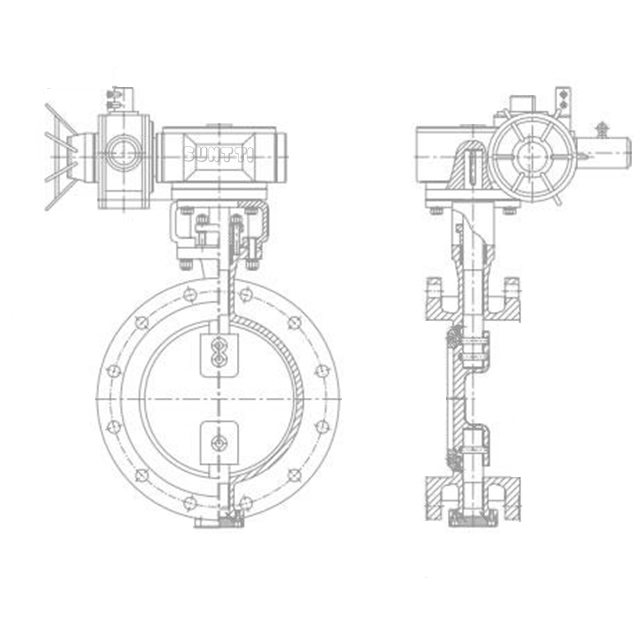 The Electric hard seal butterfly valve produced by Anshan AEN.TECH is widely used in petroleum, chemical, electric power, metallurgy, food, medicine, textile, paper making and other industries. It can be installed at temperatures ≤ 425 ° C. The medium can be gas, air and steam. , water, seawater, oil and other industrial pipe network for regulating flow and cutting media. The Electric hard seal butterfly valve is equipped with an electric actuator for remote control and automation. Electric multi-layer metal sealing butterfly valve series is a long-life, energy-saving butterfly valve. The structure is designed by three-dimensional knitting principle, and the valve seat adopts a multi-layer structure compatible with hard and soft seals, with exquisite processing and advanced technology. This product consists of valve body, butterfly plate, multi-level valve seat, valve stem, transmission mechanism and other main components.
Electric hard seal butterfly valve product features
Because the Electric hard seal butterfly valve adopts the three-dimensional eccentric principle design, the space movement track of the sealing surface is idealized, the sealing surfaces have no friction and mutual interference, and the sealing material is properly selected, so that the butterfly valve is sealed and resistant. Corrosiveness, high temperature resistance and wear resistance are reliably guaranteed. Its main features are as follows:
(1) The opening torque is small, flexible and convenient, saving energy and energy.
(2) The three-dimensional braiding structure makes the butterfly plate tighter and tighter, and its sealing performance is reliable, and no leakage is achieved.
(3) High pressure resistance, corrosion resistance, wear resistance and long service life.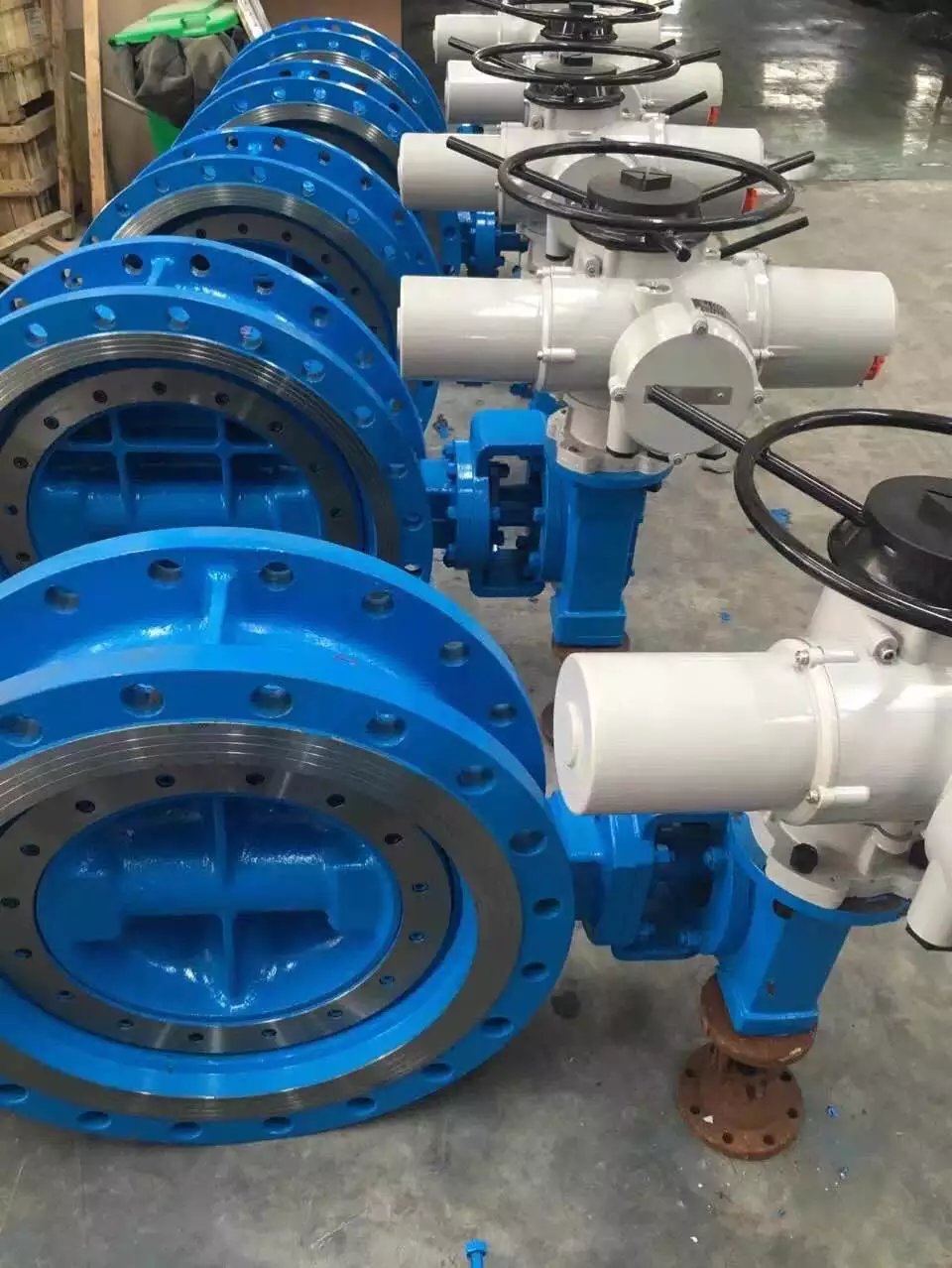 Electric hard seal butterfly valve Technical Parameters

| | |
| --- | --- |
| Nominal diameter DN(mm) | 50~1200 |
| Nominal pressure | PN1.0、1.6、2.5MPa |
| Flange standard | JB/T79、GB/T9113、HG20594-97 |
| Connection Type | Flange、wafer |
| Valve plate form | Vertical plate |
| Flow characteristics | Approximate quick opening |
| Range of motion | 0~90° |
| leakage | according to GB/T4213-92,Kv 10-4 |
| Basic error | ±2.5% |
| Backlash | ±2.5% |
| dead zone | 1% ( Adjustable) |
| Adjustable range | 50:1 |
| Configuration actuator | Can be equipped with series of angular stroke electric actuators such as PSQ, HQ, UNIC, 361RS, YH, etc. |
| control method | Switch in position light (switch two-position control), intelligent adjustment (4 ~ 20mA analog signal control) |
Electric hard seal butterfly valve Actuator Technical Parameters
Actuator
category
Standard small electric Actuator
3610R electronic Actuator
parameters
HQ explosion-proof Actuator
parameters
voltage
Standard: 220V AC single phase Optional: 110V AC single phase, 380/440V AC three phase, 24V/110V/220V AC
Output torque
50N·M~2000N·M
50N·M~1500N·M
50N·M~3000N·M
Range of motion
0~90° 0~360°
0~90°
0~90°、0°~270°Optional
control method
Switch in position lamp (switch two-position control), passive contact signal, 1/5K potentiometer, intelligent adjustment (4 ~ 20mA analog signal control)
Action time
15second/30second/60second
10second/15second/30second
18S~112S
protective device
Overheating protection
Overload protection
Built in Overheating protection、Overload protection
Ambient temperature
-30°~60°
-30°~60°
-20℃~+70℃
Manual
operation
Operated with the handle
Operated with the handle
Mechanical clutch mechanism with hand wheel operation
Mechanical limit
Electrical and mechanical double limit
Electrical and mechanical double limit
2 external adjustment bolts
Protection level
IP65
IP55
IP65、IP67、customized IP68
Explosion-proof grade
No explosion protection
ExdⅡ BT4
ExdⅡ BT4,ExdⅡ CT6
Position measurement
Optional switch or potentiometer
Proportional control unit
Potentiometer、Proportional control unit
motor
8W/E
AC reversible motor
Squirrel cage asynchronous motor
Incoming interface
PE1/2〞Incoming line lock
2-PF 1/2〞Incoming line lock
2 piece PF 3/4"
Housing
material
Aluminum alloy
steel,Aluminum alloy
steel,Aluminum alloy,Aluminum bronze,Polycarbonate
Overcoat
Dry powder, epoxy polyester, with super anti-corrosion function
(1) Powerful functions: intelligent, adjustable, and switchable.
(2) Small size: the volume is only about 35% of the similar products.
(3) Convenient to use: single-phase power supply, simple wiring; original ball-shaped protruding structure makes observation more convenient; no oil-free inspection, waterproof and rust-proof, installation at any angle.
(4) The protection device has double limit, overheat protection and overload protection. The total travel time is 15 seconds, 30 seconds, 45 seconds, 60 seconds. And with manual function.
(5) Intelligent CNC: The built-in module adopts advanced computer single chip and intelligent control software to directly receive the standard signal (4-20mA DC / 1-5VDC) output from computer or industrial instrument to realize intelligent control and precise positioning of valve opening.
The 3810 series or NA series electronic quarter-turn actuators are also available. PSQ series or DYR series are also available. ≥ DN400 caliber valves generally use 380VAC electric actuators.
Electric hard seal butterfly valve Design specification

| | |
| --- | --- |
| design standards | GB/T2238-1989 |
| Flange connection size | GB/T9113.1-2000;GB/T9115.1-2000;JB78 |
| Structure length | GB/T12221-1989 |
| Pressure test | GB/T13927-2000;JB/T9092-1999 |
Electric hard seal butterfly valve Part material

| | |
| --- | --- |
| Part Name | Material |
| Valve body | Cast iron, stainless steel, chrome molybdenum steel, alloy steel |
| Butterfly board | Cast steel, alloy steel, stainless steel, chromium molybdenum steel |
| Seal ring | Stainless steel combined with high temperature resistant asbestos board |
| Valve stem | 2Cr13、1Cr13 Stainless steel、 Chrome molybdenum steel |
| packing | O-ring, flexible graphite |
Electric hard seal butterfly valve Performance specification
Nominal diameter DN(mm)
DN50~1200
Nominal pressure
PN(MPa)
0.6
1.0
1.6
2.5
test pressure
Strength test
0.9
1.5
2.4
3.75
Seal test
0.66
1.1
1.76
2.75
Low pressure air tightness
test
Applicable
medium
Air, water, sewage, steam, gas, oil, etc.
proper
temperature
Carbon steel:-29℃~400℃ Stainless steel:-40℃~650℃
Electric hard seal butterfly valve product model
Please fill in the "Specifications" or indicate the following when selecting the model:
1. If the model is not selected before ordering, please provide us with the use parameters: 1. Nominal diameter, 2. Fluid properties (including nominal pressure, temperature, viscosity or acidity and alkalinity), 3. Valve body and valve core material.
2. If the product model of our company has been selected by the design unit, please order directly from our business department according to the model number;
3. When the occasion of use is very important or the pipeline is more complicated, please provide the design drawings and detailed parameters.