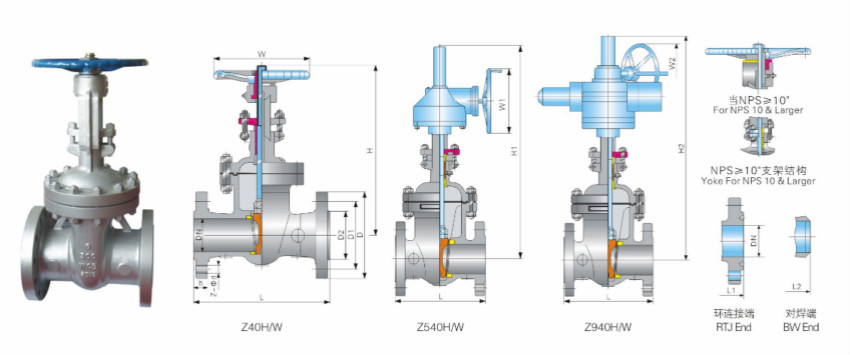 【Product Usage】
Z40H American standard gate valve is suitable for ANSI Class150~2500, PN20~42, JIS10~20K, operating temperature -29~425°C(carbon steel) and -40~500°C(stainless steel), for cutting or connecting The medium in the pipeline. By selecting different materials, it can be applied to various media such as water, steam, oil, nitric acid, acetic acid, strong oxidizing medium and urea.
【Features】
1 product design and manufacture in line with foreign advanced standards, reliable sealing and excellent performance.
2 compact and reasonable structural design, beautiful appearance.
3 The wedge-type elastic gate structure is adopted, and the rolling bearing is set in medium and large diameter, which makes opening and closing easy.
4 The full range of valve body materials, packing, gasket according to the actual working conditions or user requirements reasonable choice, applicable to all kinds of pressure, temperature and medium conditions.
5 It adopts a variety of domestic and foreign pipe flange standards and flange sealing surface types to meet various engineering needs and user requirements.
【Executive standard】
Design and Manufacturing: API 600
Flange size: ANSI B16.5
Structure length: ANSI B16.10
Pressure ~ Temperature: ANSI B16.34
Inspection and Test: API 598