AT New type of gear rack type pneumatic actuator integrated the latest technology at home and abroad, through the CAD 3D model innovation and optimized design, beautiful appearance, compact and modern styling; using new technology and materials, the utility model, the quality and performance of products more reliable; specifications selection is more economical; products in full compliance with the latest international standards the technical specifications, to meet current and future needs.
Product Characteristics
1. Double symmetrical structure of gear and rack design, fast and stable movement, high accuracy, high output power, through a simple change of piston assembly position, can be reversed rotation.
High quality Aluminum Alloy cylinder
2. Extrusion, by hard anodic oxidation by the precision machining of the inner hole and the outer surface (special case of anodic oxidation + Teflon coating), long service life, low coefficient of friction.
3. One-piece design, all double acting and single acting actuator models all have the same cylinder block and end cover. It is very convenient to change the mode of action by adding spring or removing spring.
4. Combination type pre loading safety spring set, it can install and increase or decrease the number of springs conveniently and safely no matter in the process of assembly or in use.
5. The external side of the two separate adjusting screw for actuator installed in the valve is more accurate and convenient, valve opening and valve closed position, such as the full stroke adjustment is also on the two end cap long screw configuration.
6. Multi position indicator, scene visualization instruction, with VID/VIE3845, NAMUR standard tank can be installed, and the output of all accessories such as limit switch box, electric positioner, position sensor (Bei Jiafu, Turck).
7. Air source interface conforms to NRMAR standard and can be installed directly with NUMAR standard solenoid valve.
8. The back of the rack composite material, bearing and piston guide ring and output shaft bearings, in order to prevent metal to metal friction, and increase lubrication, make it low friction and long life.
9. All fasteners are made of stainless steel, long-term corrosion resistance.
10. The connection part conforms to the new international standard ISO5211, DIN3337 (F03-F25), so that the production and installation of interchangeability, versatility.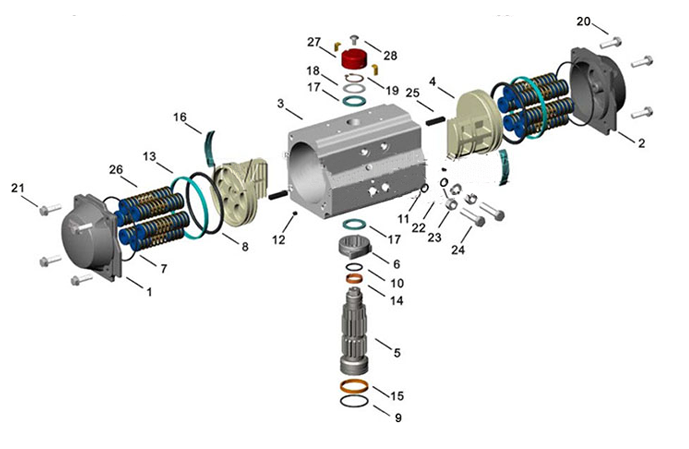 Anatomical parameter

| | | | | |
| --- | --- | --- | --- | --- |
| Part number | Quantity per unit | Part name | Standard material | Selected materials |
| 01 | 1(1) | Left end cover | Die cast aluminum alloy | Stainless steel |
| 02 | 1(1) | Left end cover | Die cast aluminum alloy | Stainless steel |
| 03 | 1 | Cylinder block | Die cast aluminum alloy | Stainless steel |
| 04 | 2 | Piston | Die cast aluminum alloy | - |
| 05 | 1 | Output shaft | Carbon steel | Stainless steel |
| 06 | 1 | Adjusting cam | Stainless steel | - |
| 07 | 2 | O ring (end cover) | Ding Qing rubber | Fluorine or silicone rubber |
| 08 | 2 | O ring (piston) | Ding Qing rubber | |
| 09 | 1 | O ring (bottom of output shaft) | Ding Qing rubber | Fluorine or silicone rubber |
| 10 | 1 | O ring (top of output shaft) | Ding Qing rubber | Fluorine or silicone rubber |
| 11 | 2 | O ring (adjusting bolt) | Ding Qing rubber | Fluorine or silicone rubber |
| 12 | 2 | Plug (cylinder block) | Ding Qing rubber | Fluorine or silicone rubber |
| 13 | 2 | Bearing (piston) | Fluorocarbon composite | - |
| 14 | 1 | Bearings (at the top of the output shaft) | Nylon 46 | - |
| 15 | 1 | Bearings (at the top of the output shaft) | Nylon 46 | - |
| 16 | 1 | Guide bearing (back of piston) | Nylon 46 | - |
| 17 | 2 | Thrust bearing (output shaft) | Nylon 46 | - |
| 18 | 2 | Gasket (output shaft) | Nylon 46 | - |
| 19 | 1 | Elastic ring | Stainless steel | - |
| 20 | 8/12/16(2) | End cap bolt | Stainless steel | - |
| 21 | 8/12/16(2) | End gasket | Stainless steel | - |
| 22 | 2 | Shim | Stainless steel | - |
| 23 | 2 | Nut | Stainless steel | - |
| 24 | 2 | Adjusting bolt | Stainless steel | - |
| 25 | 2 | Guide block | Nylon66+30%FG | - |
| 26 | 5-12 | Spring assembly | Alloy spring steel | - |
| 27 | 1 | Position indicator | PolypropylenePP+30%FG | - |
| 28 | 1 | Screw | Stainless steel | - |